Furniture Story Sofa Buying Guide
When it comes to finding the perfect sofa for your home, the task can be overwhelming. With an abundance of styles, fabrics, sizes, and shapes available, it's easy to feel unsure where to begin. Furniture is a long-term investment, so it's crucial to invest time in determining your exact preferences before making a purchase. Whether you're seeking a cosy corner sofa for your living room or a sleek velvet sofa for your playroom, we at Furniture Story are confident in our ability to bring your dream furniture to life. With our three-step process, creating your perfect sofa is a breeze. Simply choose your desired model, pick the perfect fabric, and checkout with our flexible payment methods. Our team will then skillfully handcraft and deliver the perfect sofa for your home directly to your doorstep, ensuring a seamless experience from start to finish.
---
What size of sofa do you require?
The first aspect to consider when purchasing a sofa is its size. It is crucial to ensure that the sofa not only fits well within your new space but also optimizes the available area. Are you seeking a sofa that accommodates three individuals while being mindful of its footprint? Perhaps you desire a corner sofa that offers the ultimate seating experience for your entire family, but you're faced with a challenging space. Or maybe you need a sofa that suits a smaller room while also serving as a guest bed. No need to worry! We offer an extensive range of sofa sizes to cater to your specific needs, enabling you to discover the perfect fit effortlessly.
Two-seater sofas are a popular choice for couples or in spaces where maximizing space is essential. Our collection of two-seater sofas provides optimal comfort for two individuals or, if you're feeling cozy, it can accommodate three people. Additionally, two-seater sofas are an excellent option when creating a furniture ensemble, such as pairing two sofas or combining a sofa with an armchair or two. Explore our range of two-seater sofas and discover the perfect fit for your home, optimizing both comfort and style.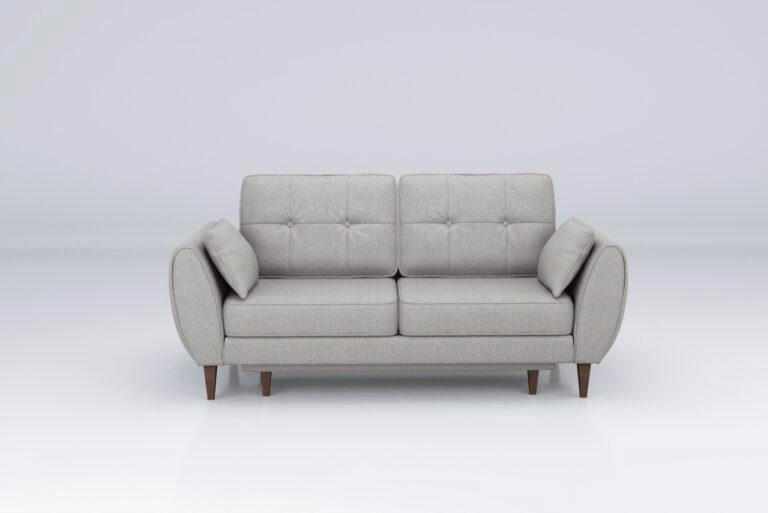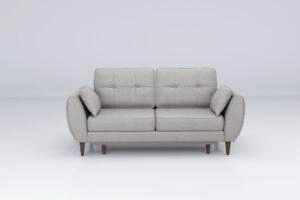 One of our most sought-after sizes, the three-seater sofa is meticulously crafted to provide ample space for three individuals to relax in utmost comfort. Alternatively, it offers the ideal opportunity for one or two people to luxuriously stretch their legs. While traditional three-seater sofas typically feature three separate seat cushions, we also offer a range of options with two larger seat cushions, ensuring a stylish and spacious seating experience.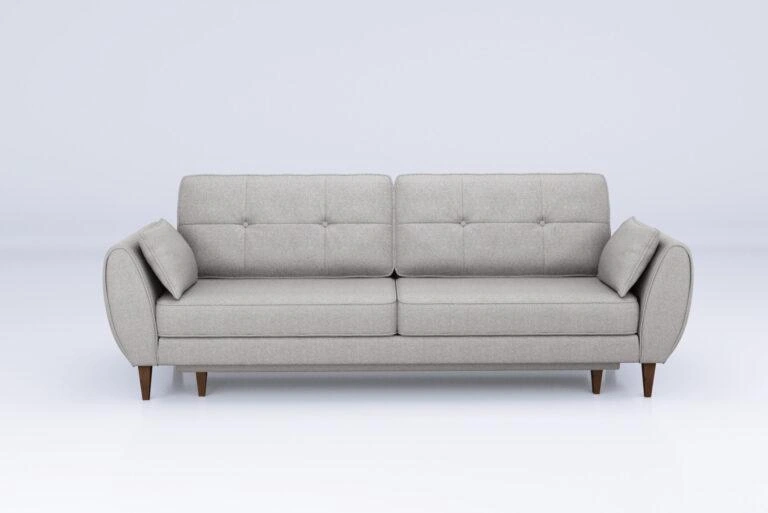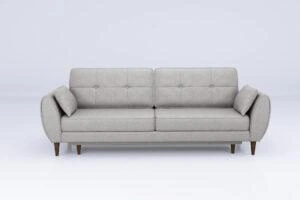 Corner sofas are an ideal choice for larger homes and families, providing ample seating and a comfortable lounging experience. Typically composed of two seating sections joined together at a right angle, corner sofas offer versatility and space optimization. Embrace the flexibility and functionality of corner sofas, tailoring your seating arrangement to complement your living space and lifestyle.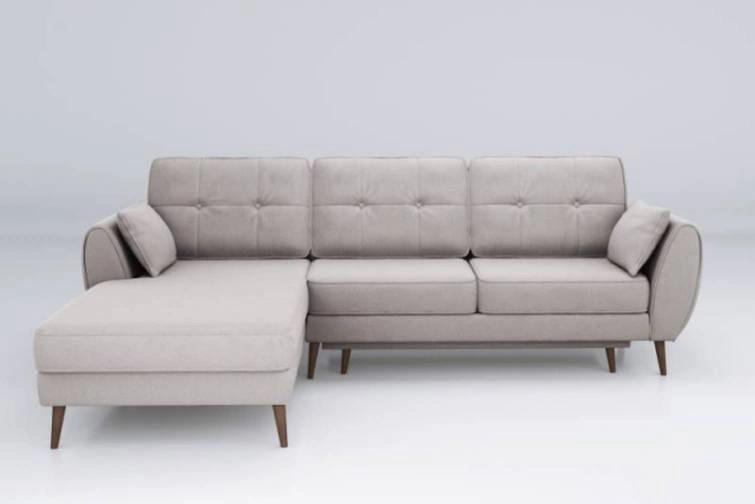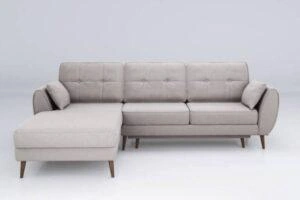 U-shaped sofas offer numerous benefits for those seeking both comfort and functionality. Firstly, their spacious design provides ample seating for a larger number of people, making them ideal for entertaining or accommodating a large family. The U-shape configuration also promotes a sense of togetherness and encourages conversation among guests. Additionally, the extended chaise or ottoman on one side offers a cosy spot for relaxation and lounging. The U-shaped layout allows for versatile seating arrangements, including creating separate zones for different activities. It provides ample space for stretching out and can even serve as a temporary sleeping area. With their generous size and modular options, U-shaped sofas offer flexibility in customization to fit various room layouts. Lastly, they can serve as a statement piece, adding a touch of elegance and sophistication to your living space.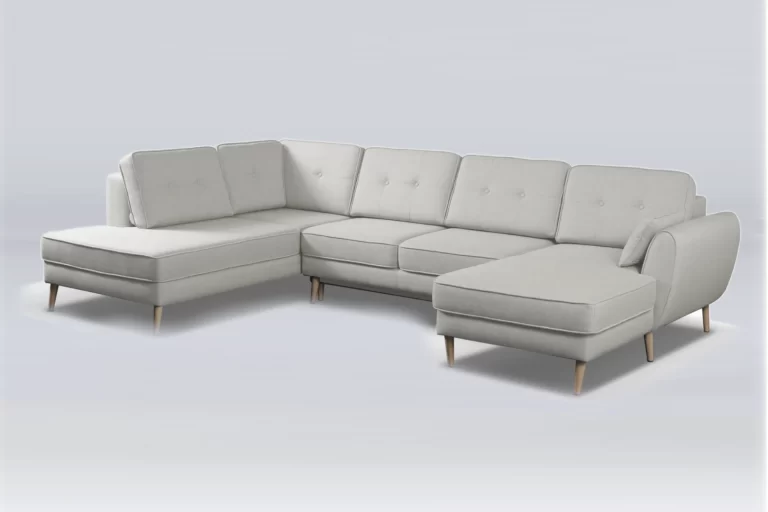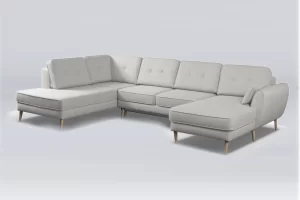 For those with large families or plenty of friends, we offer a selection of extra-large seat sofas. These generously proportioned sofas can be positioned against a wall or placed at the heart of a room, accommodating four or more people with ease. They provide ample space for a couple and their children (and even pets!) to relax comfortably and enjoy quality time together throughout the evening.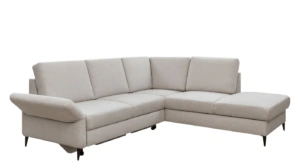 Having a sofa that effortlessly converts into a bed in a matter of minutes is not just incredibly practical for occasional overnight visitors, but also presents a wonderful space-saving chance. Whether you incorporate a sofa bed in the guest bedroom or study, or desire to convert your living room into a versatile space for movie nights and sleepovers, a sofa bed offers the ideal solution. With options available in two-seater and three-seater sizes, our collection of sofa beds ensures optimal comfort whether you're sitting or sleeping. Explore our range and discover the perfect sofa bed for your home.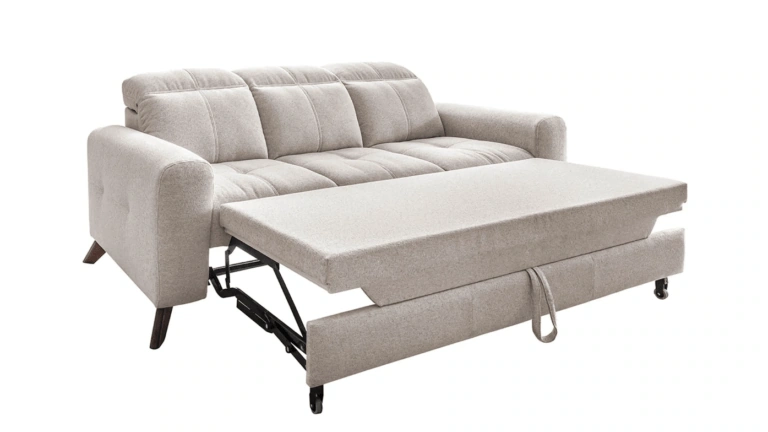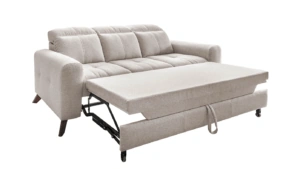 Finding the perfect sofa for your home that effortlessly converts into a bed in a matter of minutes isn't just incredibly handy for accommodating occasional overnight visitors; it also presents an excellent space-saving prospect. Whether you incorporate a corner sofa bed into your guest bedroom or study, or desire to create a versatile setup in your living room for movie nights and sleepovers, a sofa bed is the ideal answer. Explore our collection of corner sofa beds, designed to ensure your comfort while seated and sleeping.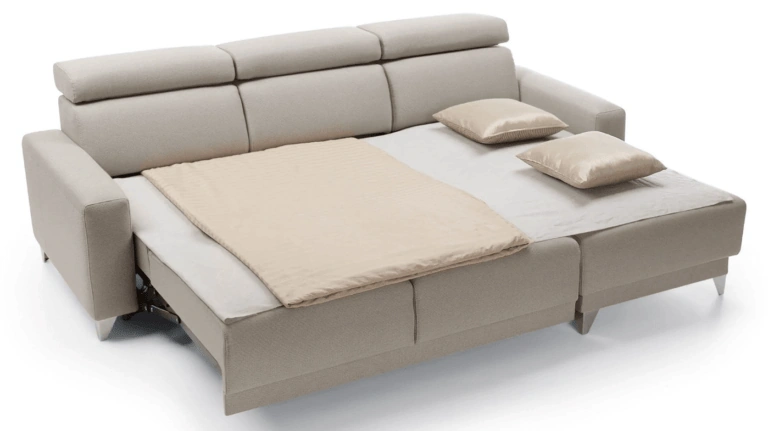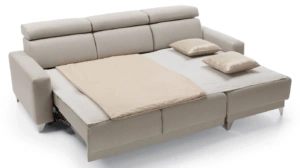 ---
What fabric sofa should I choose?
It's really important to choose the perfect sofa for your home, both in terms of colour and material. The right fabric and colour will completely transform the space your sofa will be sitting in, and bring the room to life.
Velvet Fabrics
Velvet fabrics exude elegance and luxury, adding a touch of sophistication to any sofa. With their soft and smooth texture, they provide a comfortable seating experience. Velvet also has a rich depth of colour and a lustrous sheen, creating a visually striking and opulent appearance. Additionally, velvet fabrics are durable and can withstand regular use, making them ideal for both formal and cosy living spaces.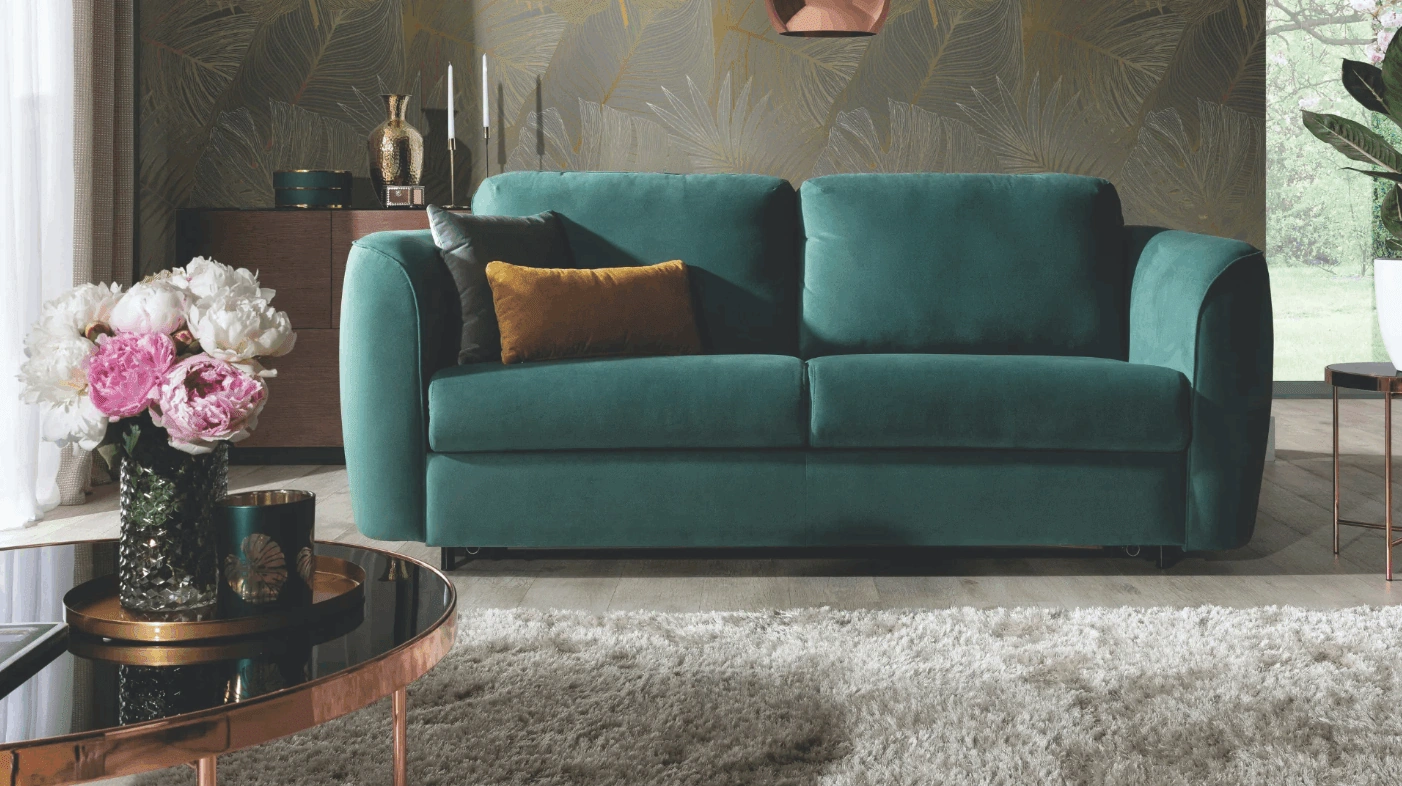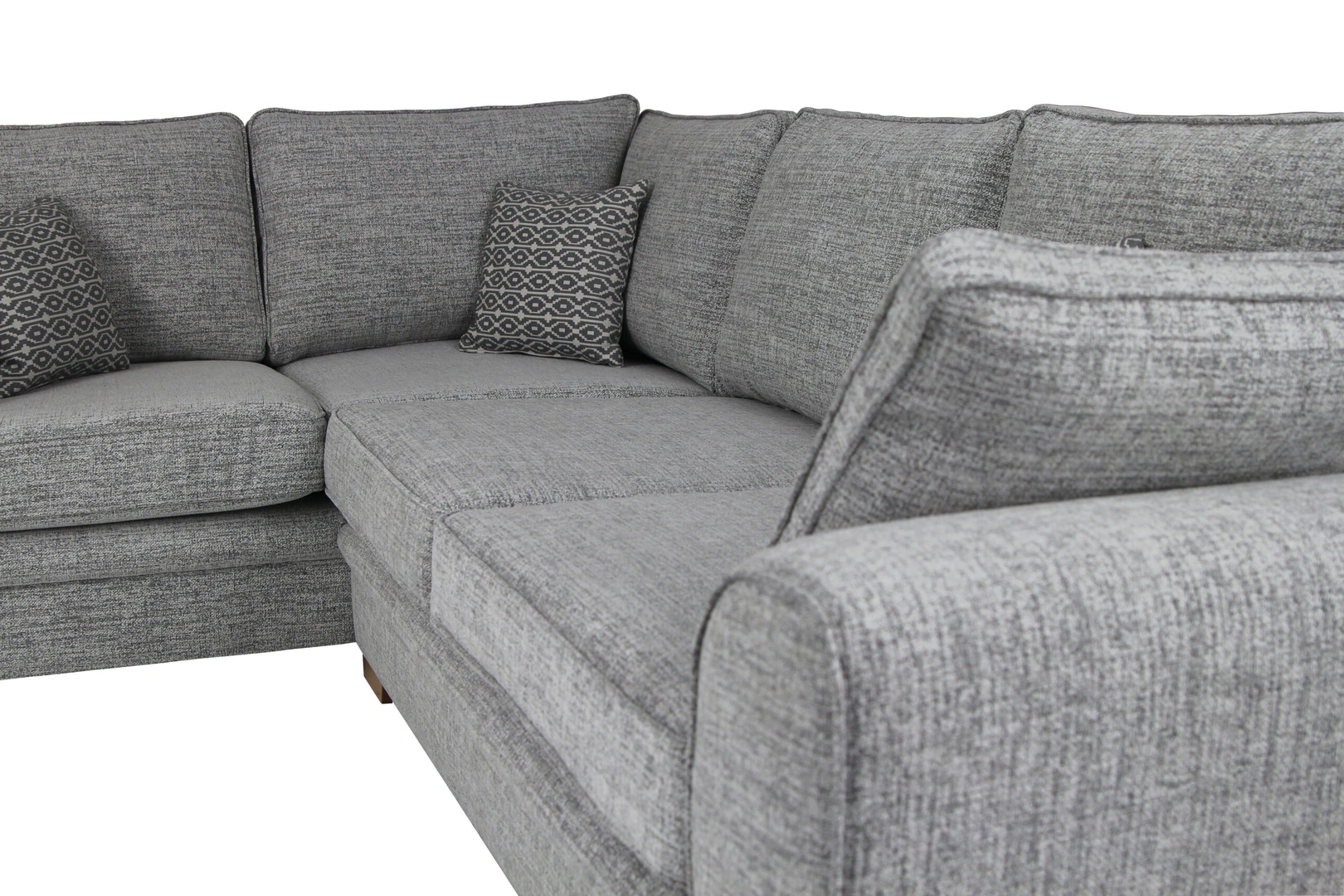 Woven Fabrics
Woven fabrics offer a versatile range of options for sofas. They come in various patterns, designs, and textures, allowing you to choose the perfect style to complement your decor. Woven fabrics are known for their durability, making them suitable for everyday use. They are also resistant to pilling and stretching, ensuring a long-lasting sofa. Moreover, woven fabrics provide a classic and timeless appeal, making them a popular choice for both traditional and contemporary settings.
Plush Fabrics
Plush fabrics provide the ultimate comfort and cosiness for sofas. They are incredibly soft and inviting, making you want to sink in and relax. Plush fabrics, such as microfibre or chenille, are known for their exceptional softness and gentle touch against the skin. They also offer excellent stain resistance, making them a practical choice for families with children or pets. With their luxurious feel, plush fabrics create a warm and inviting atmosphere in any living space.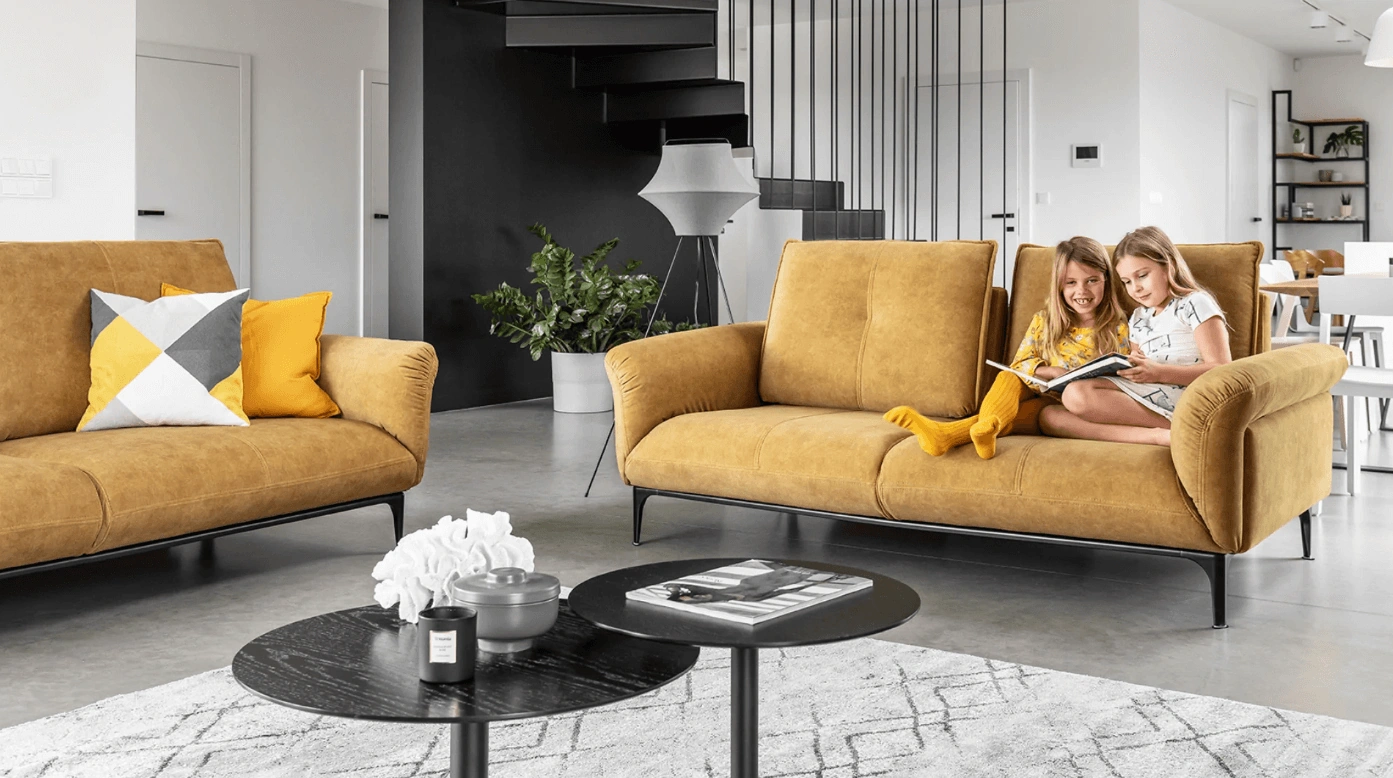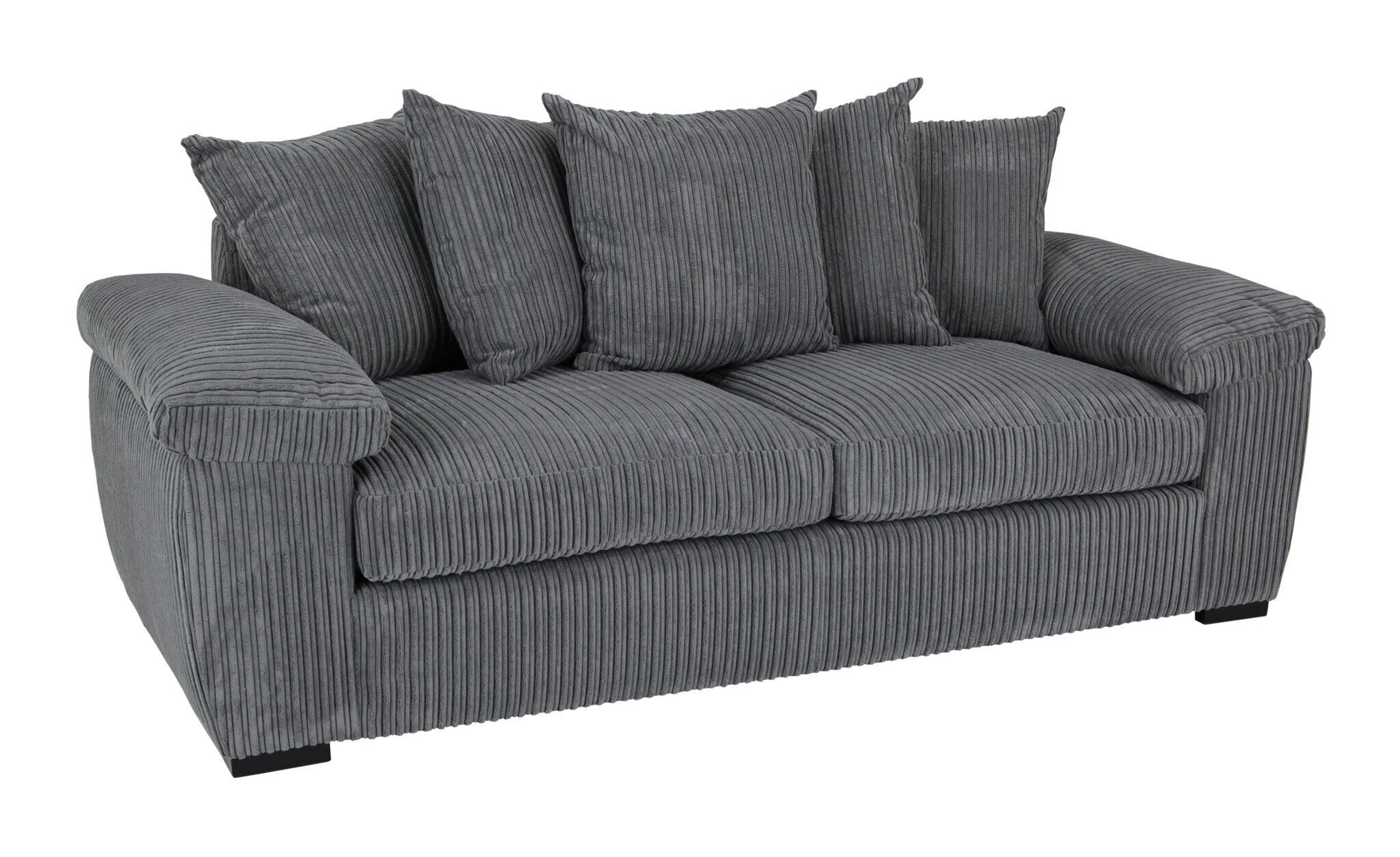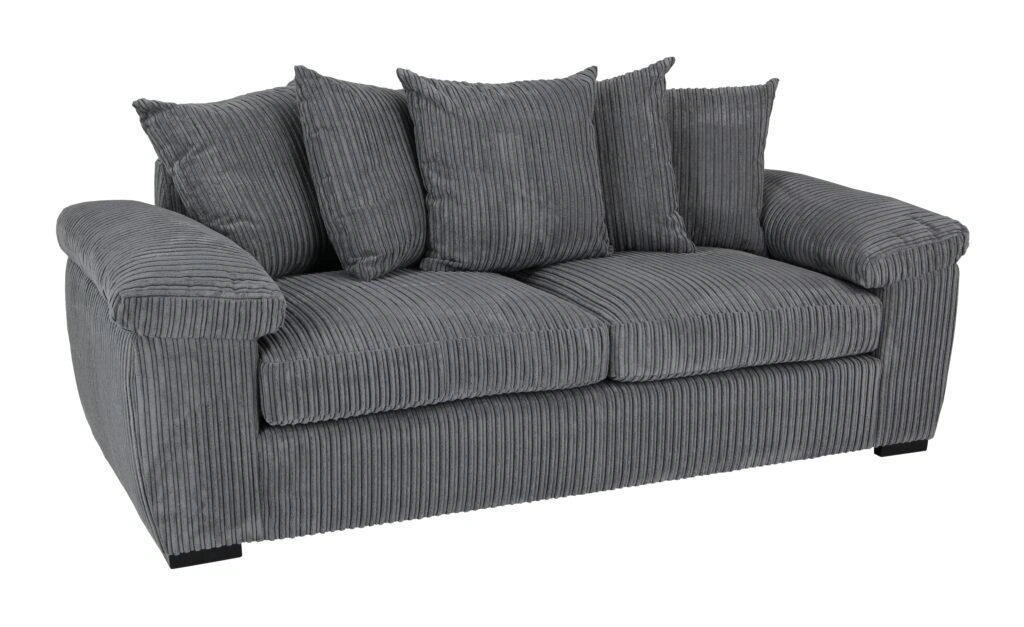 Textured Fabrics
Textured fabrics add depth and visual interest to sofas. With their unique patterns, weaves, or embossed designs, they create a focal point in the room. Textured fabrics offer a contemporary and modern look, adding a touch of sophistication to your sofa. They are often durable and resistant to wear, making them suitable for high-traffic areas. Textured fabrics also help to conceal minor stains or spills, making maintenance easier while still providing an aesthetically pleasing appearance.
Leather
Leather is the perfect sofa choice for your home, a timeless choice for sofas, renowned for its durability, longevity, and luxurious appeal. It ages beautifully and develops a unique patina over time. Leather sofas are easy to clean and maintain, and they offer excellent stain resistance. They are also hypoallergenic and ideal for individuals with allergies. Leather upholstery adds a touch of elegance to any space, while its natural breathability ensures a comfortable seating experience. From classic to modern interiors, leather sofas effortlessly elevate the overall aesthetic.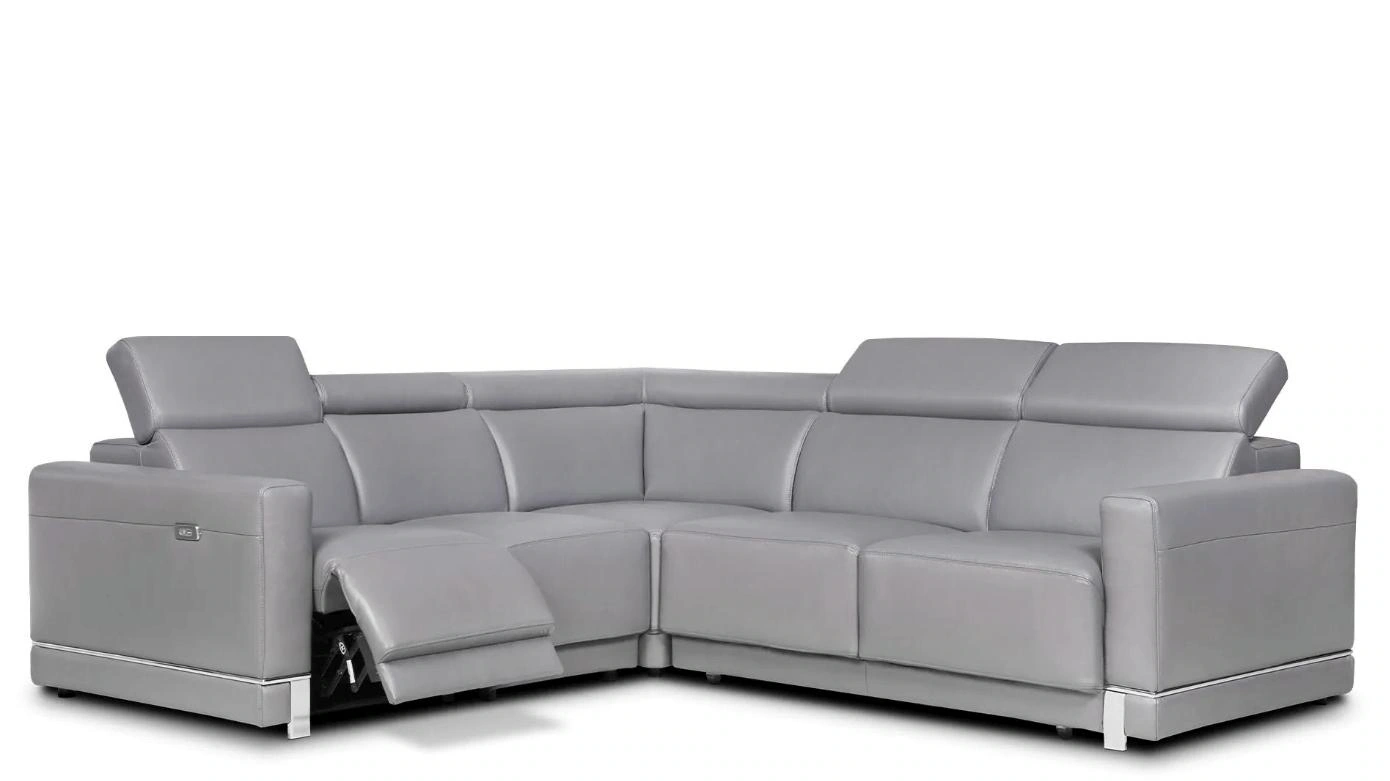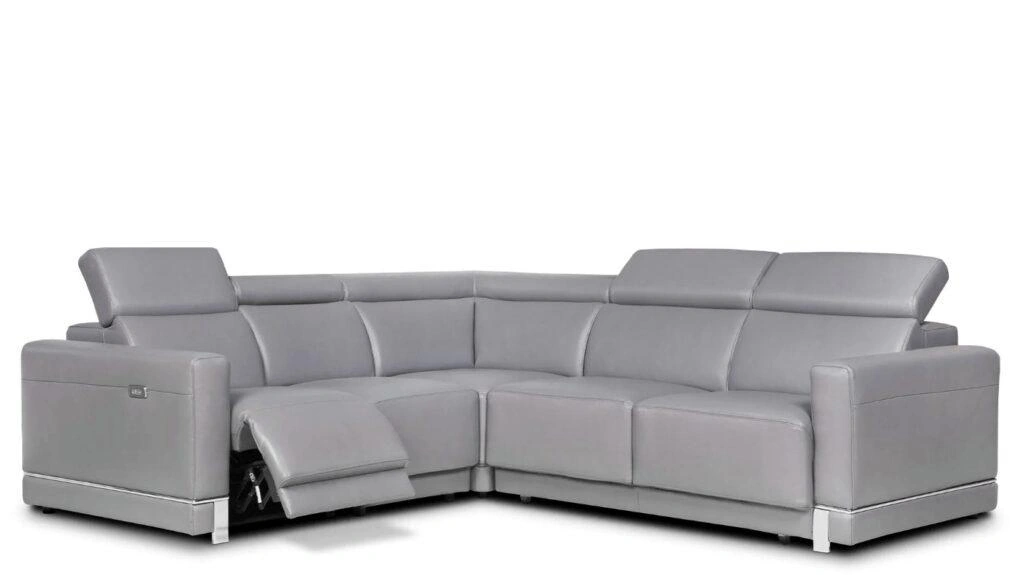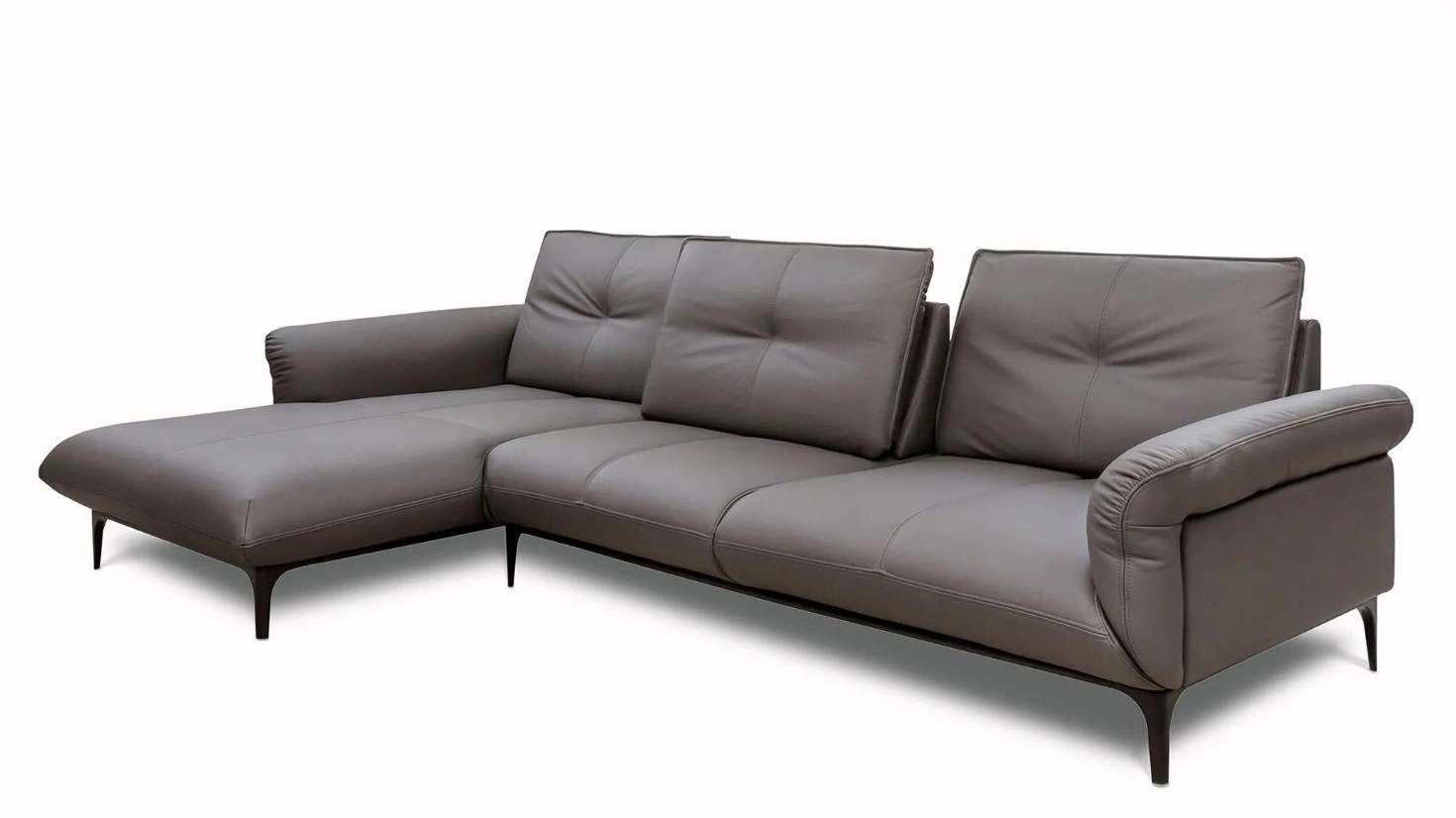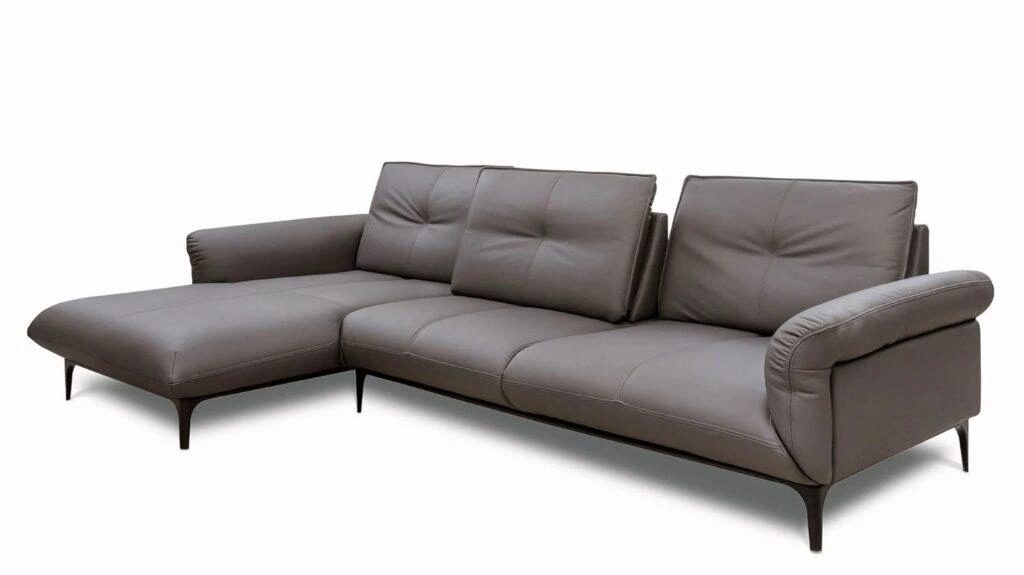 Eco Leather
Eco leather, the perfect sofa choice for your home, also known as faux or synthetic leather, offers a sustainable and animal-friendly alternative to genuine leather. Made from synthetic materials, such as polyurethane, eco leather mimics the appearance and texture of real leather. It provides a similar luxurious look and feel while being more affordable and easier to maintain. Eco leather is also resistant to stains and scratches, making it ideal for households with pets or children. Choosing eco leather for your sofa allows you to enjoy the benefits of leather-like aesthetics in an environmentally conscious way.
Choosing the right colour for your sofa is crucial in creating your ideal living space, which is why we offer a wide range of over 100 fabrics in various captivating colours. Whether you already have a specific colour in mind or are exploring options for a velvet sofa, we understand the importance of finding the perfect hue to match your vision.
---
Selecting the Perfect Sofa Colour: A Guide to Finding Your Ideal Hue
If you're simply replacing an existing sofa without planning to redecorate, it's essential to consider your current colour scheme. Assess whether you desire the sofa to make a bold statement and serve as a vibrant accent in the room, or seamlessly blend in with the existing colours, enhancing the overall harmony of the space. By carefully considering your preferences and the surrounding decor, you can select a sofa colour that perfectly complements your style and creates the desired ambiance in your home.
Pastel Perfection: Adding Whimsy to Your Space with a Pastel Sofa
Choosing the perfect sofa for your home, a pastel coloured sofa can infuse your space with a playful and whimsical charm. These soft hues, ranging from soothing mint greens to delicate blush pinks, create an atmosphere of tranquillity and serenity. A pastel sofa effortlessly brightens up any room, making it feel more open and airy. Moreover, pastel colours lend themselves well to various decor styles, from Scandinavian minimalism to bohemian chic. They provide a refreshing contrast to neutral tones and can be easily paired with vibrant accents for a pop of personality. So, why settle for ordinary when you can embrace the enchantment of pastels and transform your space into a whimsical haven?
Vibrant and Striking: Bright Coloured Sofas
Experience the allure of bold and beautiful hues with our collection of vibrant coloured sofas. Our most popular colour fabrics encompass a range of eye-catching shades, from radiant oranges and pinks to lively yellows and greens. These bright coloured sofas make a statement, injecting a pop of colour that instantly transforms any room. Not only are they visually captivating, but they also offer unrivalled comfort, ensuring that your showstopper sofa becomes the comfiest seat in the house. Choosing a bright coloured sofa is an obvious choice for those seeking both incredible style and unbeatable cosiness.
Tranquil Hues: Embrace Serenity with Neutral Sofas
In the quest for a soothing ambiance and a personal sanctuary, sometimes the perfect sofa for your home is one that emanates tranquillity rather than demanding attention. The resurgence of neutrals in interior design has captured our hearts, particularly as many of our fabric shades draw inspiration from nature's calming palette. From serene stone and earthy clay sofas to understated yet refined taupe and canvas coloured sofas, our neutral tones offer simplicity at its finest. With these versatile hues, you can create a serene foundation and infuse bursts of colour through carefully chosen accessories, allowing your personal style to shine.
Oceanic Vibes – Blue Sofas
Indulge in the soothing allure of the sea with our wide selection of blue sofas, the perfect sofa for your home. Inspired by nautical tones, our collection features a range of captivating blue hues that will transport you to a seaside paradise. From deep navy to sky blue and vibrant turquoise, our beautiful blue fabrics are highly sought-after for their timeless appeal. These shades of blue effortlessly infuse spaces with a touch of tranquillity, without overwhelming the overall aesthetic. A fabric blue sofa offers the ideal choice for those seeking to embrace a hint of colour while maintaining a cool and classic ambiance. Discover the perfect blue sofa to create your ultimate coastal retreat.
Elegant Monochrome – Grey Sofas
If you're searching for a stunning grey sofa, the perfect sofa for your home, that complements a monochrome interior or prefer a simple and understated look, our extensive selection of grey fabrics is sure to impress. From luxurious velvet grey sofas to cosy grey cotton sofas, we offer a wide range of options to suit every taste. The beauty of choosing a neutral sofa colour like grey is the flexibility it provides. You can effortlessly update the colour palette with the changing seasons by accessorizing with vibrant cushions, stylish throws, and cosy blankets. Embrace the sophistication of monochrome with our exquisite grey sofas.
---
Choosing the Perfect Sofa Style for You
When selecting the perfect sofa for your home, it's crucial to consider the overall style of your home. If your interior boasts a traditional decor, opting for a contemporary sofa with angular edges may disrupt the cohesive aesthetic. Conversely, a sofa with soft scroll arms might feel out of place in a modern, minimalist setting. Harmonizing your sofa style with the existing ambiance ensures a seamless integration, creating a visually pleasing and cohesive living space.
Timeless Charm: Embrace the of Traditional Sofa Styles!
If you have an affinity for timeless design, our exquisite collection of traditional sofas is tailored to meet your tastes. Meticulously crafted with enduring elements like gentle-scroll arms, graceful lines, and unparalleled comfort, our classic-style sofas embody elegance and refinement. It comes as no surprise that these iconic designs are among our most sought-after styles, capturing the essence of timeless sophistication and providing a touch of grandeur to any living space. Experience the allure of classic beauty with our exceptional selection of traditional sofas.
Embrace the Essence of Contemporary Sofas
If you desire a sofa that embodies contemporary style, boasting sleek lines, stunning avant-garde shapes, and exceptional comfort, look no further. Our contemporary collection presents the ultimate selection of modern masterpieces, the perfect sofas for your home. From bold angular edges to alluring curves, each piece is meticulously designed to exude modern elegance. Experience the perfect fusion of style and comfort with our captivating range of contemporary sofas.
Captivating Mid-Century Sofa
If you're seeking sofa styles that have transcended time and continue to captivate today, delve into our remarkable mid-century sofas collection, the perfect sofas for your home. Merging the interior style of the 1950s and 1960s with our impeccable craftsmanship, we present an exquisite array of sofas boasting clean lines, unrivalled comfort, and timeless sophistication. Embrace the retro charm and experience the perfect blend of nostalgia and contemporary allure with our meticulously curated mid-century sofa collection, the perfect sofas for your home.